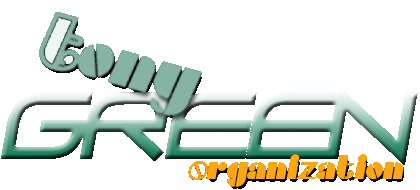 Optimize to 1024 x 768 for best results.


Tony Green Organization is a group of associated entertainment companies founded by Tony Green. The group consists of TGO Records, Monogram Entertainment Network, Evolution Records and Unison Studios.

Tony Green is a producer/songwriter whose proven hits have earned him international acclaim. His many years of experience and success have established him in the record industry. His works have been charted on Billboard magazine and have won a number of BMI and SOCAN awards. In July 1996 Tony Green was inducted in the Canadian Dance Hall of Fame.

Some of Mr. Green's works as a producer/songwriter include the hit songs "Come To Me" and "The Heart To Break The Heart" by France Joli; "Everybody Get Up and Boogie" and "Hollywood" by Freddie James. He has also worked with such artists as Luba, Beau Geste, Michelle Sweeney, Katie Emme, L.E.M, Teri V and Minervah to name a few.

Mr. Green continues to render his services on a freelance basis as a producer, songwriter, and arranger as well as a music business consultant. With the valuable experience he has acquired in the music industry, Mr. Green embarks in every production with great confidence and complete knowledge of all the different aspects of the entertainment business to give the product the proper direction it needs to have a chance at success.